Information pertaining to courses that you have registered for and/or completed including credits earned and final grade earned can be found on the Registration and Grade History page. To access this information:
Select in the upper right corner of any page of the app.
Navigate to Registration and Grade History. A list of past course registrations and enrollment details will appear.

The status of past or current registrations may include:
a. Expired – courses that were requested but not approved or denied before the last day to enroll
b. Completed – courses that have been completed with a grade and/or credits earned
c. Denied – course was requested but enrollment was denied by either your institution or the teaching institution offering the course.
d. Requested – course has been requested but is not yet approved or denied for enrollment
Click from any course card to view information about that course including course details, course start and end date, and registration details.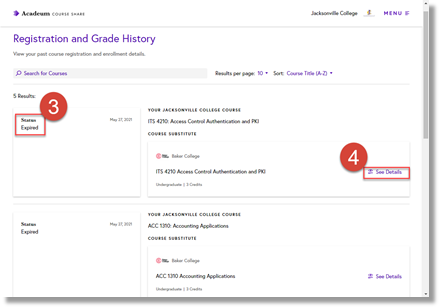 ******************************
If this view doesn't look familiar click here to access resources for the previous version of the Acadeum Course Share Student App (visual below):