The Advisor Recommendations feature allows your school's advising team, or others who serve in an advising capacity, to recommend that you register for specific courses that they have approved for students to take. In many instances, this makes the process of interacting with your Advisor more efficient as Advisors can communicate directly through the app about the courses that they recommend that you enroll in.
Once an Advisor recommends a course/s, you will receive an email notification as well as a notification within the Acadeum Course Share Student Application.
From the main landing page, click the button.


a. A red dot indicates that a course/s has been recommended.

b. The number of courses recommended will appear below Advisor Recommendations label.


Review the recommended course information:


a. Advisor: representative from your school who recommended the course

b. Advisor's Personal Message: note or special message from the advising representative

c. Your [School] Course: The course code and title of your institution's course that this is replacing

d. Course Substitutes: the recommended courses from other institutions (there will be at lease one course listed here. Multiple courses may be recommended offered by multiple schools.)

Click to access details about a course such as start/end dates, description and syllabus, textbook, etc. or to request registration.

If interested in enrolling in the course, enter a reason for the registration request.
Click to request registration.

A pop-up box will appear confirming your request. Click

Continue

to exit.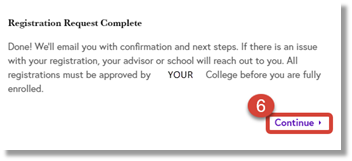 You will receive a confirmation email and next steps once the request has been approved.
If this view doesn't look familiar click here to access resources for the previous version of the Acadeum Course Share Student App (visual below):