The Current Enrollments area allows you to review the status of all registration requests and enrollments, including whether they are Requested, Approved, Enrolled, or Active.

From the Acadeum Course Share main page, click .

Registration/Enrollment status can be viewed in the course status card.


a. Requested: registration request was sent to your institution's administrator and is awaiting approval

b. Approved: your institution's administrator approved your registration request and was sent to the teaching institution for final approval and enrollment

c. Enrolled: teaching institution approved the registration request and completed your enrollment in the course

d. Active: course has started
(Denied registration requests are visible in the Registration and Grade History area of the Acadeum Course Share Student Application.)
Click to view information about each course request/enrollment.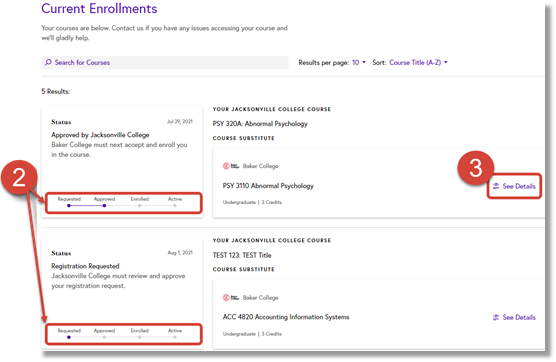 From this view, students can:
Cancel a registration request
Drop (before final drop date) from an active course
Withdraw from an active course (after the final drop date)
************************
If this view doesn't look familiar click here to access resources for the previous version of the Acadeum Course Share Student App (visual below):