Request a course if you aren't able to find the course that you need or are interested in taking a different course from the list your school has approved. This will generate a request to Acadeum to search for and work with your school to find a substitute.
From the bottom of the left navigation pane of the app home page, select . (Click the logo from any page in the app to navigate back to the home page.)

Complete all requested fields (all fields are required).
Click when complete.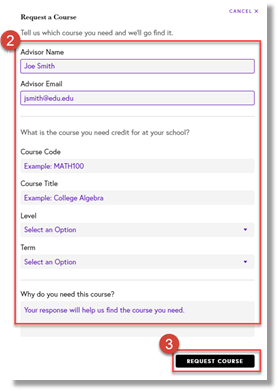 You will receive an email from Acadeum or an administrator at your school indicating progress toward finding the course you have requested.
********************************
If this view doesn't look familiar click here to access resources for the previous version of the Acadeum Course Share Student App (visual below):